General Osteopathy
Osteopathy is a manual, supplemental form of healthcare designed to treat movement-related problems and other stresses and strains within the body. It is both curative and preventive and aims to stimulate the body's own healing mechanisms by removing the physical blockages behind many symptoms and disorders.
"Relieve, treat and prevent"
When should you see an osteopath?
Osteopaths are trained to help relieve, treat and prevent pain and dysfunction in the spine, digestive system, arms and legs, cranium and ob/gyn systems. Any restriction in movement in one of these areas could lead to pathology or other health problems. This type of osteopathy is referred to as general osteopathy.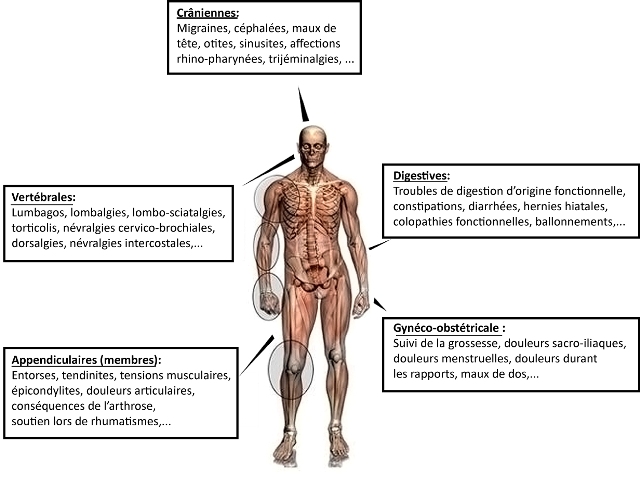 Are osteopaths licensed practitioners?
In Switzerland, only Diploma of Osteopathy (D.O.) who have an intercantonal certification can call themselves "osteopaths." This law, which went into effect on January 1, 2013, is intended to ensure that patients are treated by a trained, licensed professional. Under the Swiss healthcare system, osteopaths are qualified to diagnose disorders; they therefore work closely with allopathic doctors like general practitioners, neurologists, pediatricians, radiologists, surgeons and rheumatologists.
An osteopath appointment generally lasts 45 minutes and includes:
A review of your medical history
A clinical and osteopathic examination
A treatment
Several appointments are usually needed to restore mobility and recover your biological and physical equilibrium. Appointments are also an opportunity for you to discuss your concerns and ask any questions you may have.
What methods do osteopaths use?
Some of the methods that osteopaths use to restore mobility include:
Osteopathic mechanical link
Manual osteopathic treatments
Structural treatments involving high speed and low amplitude.
Gentle functional treatments involving painless, soothing movements
Muscle techniques that consist of contracting and relaxing muscles to release the tension restricting your muscles and joints
Cranial treatments to remove functional barriers to head and neck movement
Visceral treatments designed to release the tensions and adhesions restricting your abdominal organs
Facial treatments alternating neurovegetative and hemodynamic methods to remove impediments to facial movement
Reflex treatments that address dermal reflex areas to restore balance to the autonomic nervous system
Ostéopathie Du Flon
Experienced osteopaths with degrees accredited by the Swiss Healthcare Commission (CDS)

Appointments scheduled directly with our osteopaths

Cross-functional collaboration across several disciplines